Malibu Kolbe Glee Club
Congratulations to our fabulous stars who performed at the Mandurah Performing Arts Centre as part of the WA Government Schools Music Society (WAGSMS) concert series on Wednesday night. Wonderfully led by Lucretia and supported by our incredible team of EAs, they shone on centre stage, teaching the nearly full-house a few new AUSLAN signs. To them all, we say 'thank you for the music'!
My New Gallery
School Board Update - Award
The School Board is looking to acknowedge staff for their hard work and dedication to Malibu School. Congratulations to Teresa, our lovely gardener, who is the first recipient of the School Board Award, for the visible and remarkable difference she makes across the school.
Teresa joined the Malibu family in October 2020, she currently shares her time between Malibu & Settlers Primary Schools. Prior to joining the Education Department, Teresa has always been employed within the world of Horticulture, at one time working at Kings Park Botanical Gardens.
The impact she has made on our learning environment is noticed and enjoyed and her knowledge, skills and expertise benefit us all. The members of the Board congratulate you and express our appreciation on behalf of students, staff and families of Malibu School.
"What a fantastic job you are doing with the landscaping of the Malibu School gardens. The extra things that you do don't go unnoticed. The painted bikes, macrame plant holders and insect hotels give everyone such delight. Sharing your wealth of knowledge and your passion for gardening is truly an asset for our School. Your award is well deserved for going above and beyond your job description."
Yvonne Peters
School Board Chair
The Arts
The importance of the Arts in our student's education is best evidenced by Robyn Ewing in his 2010 report for the Australian Council for Education Research (ACER). Ewing states that:
. . .experiencing the Arts is natural and necessary for all children and young people as part of their learning; that through the Arts they gain access to the real world and to other possible imaginative worlds, and make coherent meaning and order for themselves out of the welter of impressions and sensations bombarding them, from inside and out, before and from birth.
This semester all students throughout the school have been immersed in the wonderful world of Art. From Music to Media Arts we have witnessed remarkable achievement and inspirational creativity shine through in all of our sessions.


Music
The students are exploring various techniques used to play Djembe Drums and are learning rhythmic patterns. The students have been using Rhythm Sticks for practising actions and different tempos whilst also using a variety of untuned percussion instruments such as triangles, maracas and tambourines to work together as a small ensemble playing along to different backing tracks. The have been learning to sing and sign to the beautiful song, 'Wanjoo Wanjoo'.


Dance
The students have been exploring safe body movement and dance sequences. From simple four step sequences to more complex combined body movements and routines. It is wonderful to see the students engage and thoroughly enjoy themselves as their confidence grows. From Kindy Rock to Hip Hop our Malibu students sure know how to bust a move!


Visual Arts
Continuing on with last semesters theme the students have been learning the Elements of Art. As they progress through the elements the students have explored through sensory based art activities and experimented with a variety of mediums and techniques. With arts language (including Auslan) playing a vital role in these learning experiences it is just wonderful to hear and see the students communicate their knowledge and understanding of the elements each week.


Drama
This semester the students have been learning magic and playing the part as their own audience whilst they execute each trick in front of a mirror. They have made simple magic tricks from household items and explored more complex magic using purchased items from Magic Australia. It is truly remarkable observing the students refine their magic mastery as they perform to themselves. Abracadabra. One. Two. Three!


Media Arts
This semester Media Arts has been divided into two different programs, Spot Motion Animation and Custom Made Temporary Tattoos. These two new programs have sparked great enthusiasm in our learning space, with each student engaging, exploring and experimenting at their own pace. The simplicity of these two programs and the technology used guarantees that the final product from every student is their very own work and something of which they will all take great pride in creating.


A very big thanks.
Without the support and enthusiasm of our amazing Educational Assistants none of the above would ever happen. So from the bottom of our hearts we thank every single one of our EA's for the energy that you bring into our space every single day. You are the real role models who guide our students to give everything a go to be their best. Thank you.


Debbie Smith & Lucretia Ramsay


Science - All Mixed Up
During Science we are surrounded by mixtures. The air we breathe, the food we eat and drink and our personal products. Chefs try mixing ingredients.
We have been learning about materials that don't mix well and others that are difficult to separate.
Through hands on investigations, students explore how changing quantities of materials in a mixture can alter its properties and uses.
Rob
Rate our new Newsletter!
How many stars do you give our new Newsletter?
Malibu Nurses Update
Following recent Commonwealth advice, Pfizer COVID-19 vaccines are now available to those 12 years old and over who are considered medically at risk. In addition, COVID-19 vaccines will be provided to all Aboriginal and Torres Strait Islander Adolescents 12 years old and over.

This recommendation is based on the evidence that certain adolescents are at greater risk of severe disease and complications when infected with COVID-19.

For children who fulfill the Commonwealth eligibility criteria, the preferred pathway to access vaccination is via a GP clinic or at an available state vaccination hub by booking on the VaccinateWA website.

A limited number of vaccinations will occur each week at PCH, by invitation and appointment. To access this clinic, an outpatient eReferral must be made to the Infectious Diseases service. The current criteria for accessing this clinic are:
Patient who is unable to access vaccine in the community due to their complex care needs or previous reactions to vaccinations.

Patient requires urgent vaccination due to imminent immunosuppression.
All prospective vaccinees must register with VaccinateWA.
The latest advice regarding eligibility for, and efficacy and safety of COVID-19 vaccinations in children, can be found in the most recent ATAGI statement. Pfizer COVID-19 vaccines have been used internationally for adolescents with reassuring data about the efficacy and safety of these vaccines.

If you would like to discuss patient COVID-19 vaccination requirements, please contact the Infectious Diseases Team or PCH Immunisation Service directly.
Third Party Online Services Consent
Our school provides access to Department of Education online services to enhance your child's learning. This may include access to a range of online accounts for learning.

While using technology at school, students are supported to develop cyber safe practices. You can read more about these in the attachment below.

So that we can keep your child connected, please complete and return this form in full to your child's teacher and contact us if you have any questions.
Forms are available at Reception, on our website and below.

Enrolments for 2022 are now open.
Please visit our website for more information or contact our reception on 9527 9009.
Community Events and Information
Upcoming Road Works
The City of Rockingham advises of planned roadworks for the roundabout at Read Street and Malibu Road, due to start soon and may cause delays. This is to increase traffic and pedestrian safety.
Career planning and transition for young people on the autism spectrum parent webinar - Thursday 2 September, 4.00pm (AEST)
In this 60 minute live and interactive webinar, our presenters, Associate Professor Marina Ciccarelli, Cheryl Mangan, and Brendan James will provide information for parents about:
• The Better Outcomes and Successful Transitions for Autism (BOOST-A) research;
• The role of parents and supporters in youth focused, strengths-based career planning; and
• How myWAY Employability career planner can support young people on the autism spectrum to build a customised profile and goals to plan for future career pathways.
Based on six years of research, myWAY Employability is a smart web platform that helps autistic individuals plan and prepare for working life. Autistic individuals co-produced content, design, and usability of the website. myWAY Employability matches an individual's interests and strengths to relevant careers and pathways. It encourages users to create big dreams, and smaller goals and tasks to track progress.
The Source Kids Disability Expo
PCEC on Friday, 10 September 2021 - 9am to 4pm and Saturday, 11 September 2021 – 9am to 4pm.
Registrations: free ticket registration is now open, please register at - https://tickets.lup.com.au/source-kids-perth-2021

Facebook Event Page: we'll be providing updates on our Facebook event page in the lead up to the event, follow the page here - Source Kids Perth Expo
Thank you in advance for your support – we hope to see you and your team pop by the expo too!
The Source Kids Team x
Carers WA Morning Tea
Better Health Program - Term 4 2021 registrations now open!
Overview
The Better Health Program is a healthy lifestyle program that focuses on eating habits, physical activity and behaviour change. The program has been created by nutrition, exercise and
psychology professionals. It is for children aged 7-13 who are above a healthy weight and encourages the whole family to form lasting, healthy habits.
Term 3 Parenting Workshops
KEYS provide workshops to parents/carers with children aged between birth to 18
years living in the Kwinana, Rockingham, Cockburn, Melville and Fremantle regions.
See attached information for details
Positive Behavior Support (PBS) Update
Kate Sharp, PBS Team Leader
TA 14 - Developing Skills for Independent Living
Students in TA14 have had a great start to Term 3.
Reinforcing our theme of Independent Living and developing skills in preparation for the transition out of school at the end of year 12/13, some students have been busy developing their Work Ready Skills by completing a full day of work including delivering messages, filing, laminating, bike maintenance, sweeping and other regular activities – this is very different form a normal school day as we are mimicking the environment and pressures they will encounter out in the workforce. Other students have been offsite attending Work Place Learning in the local community and have had great success, with reports brimming with comments about how our students are performing brilliantly in authentic employment situations.
We continue with our cooking program where students are becoming adept at producing themselves simple, hot meals using the microwave. Students brainstormed Business Enterprise ideas and are looking forward to selling Doggie Treats which they will make, package and market themselves! A very busy Semester ahead with our School Ball, School Camp and Graduation.
Tiffany, Dee, Annette, Jennie, Vicky, Kendall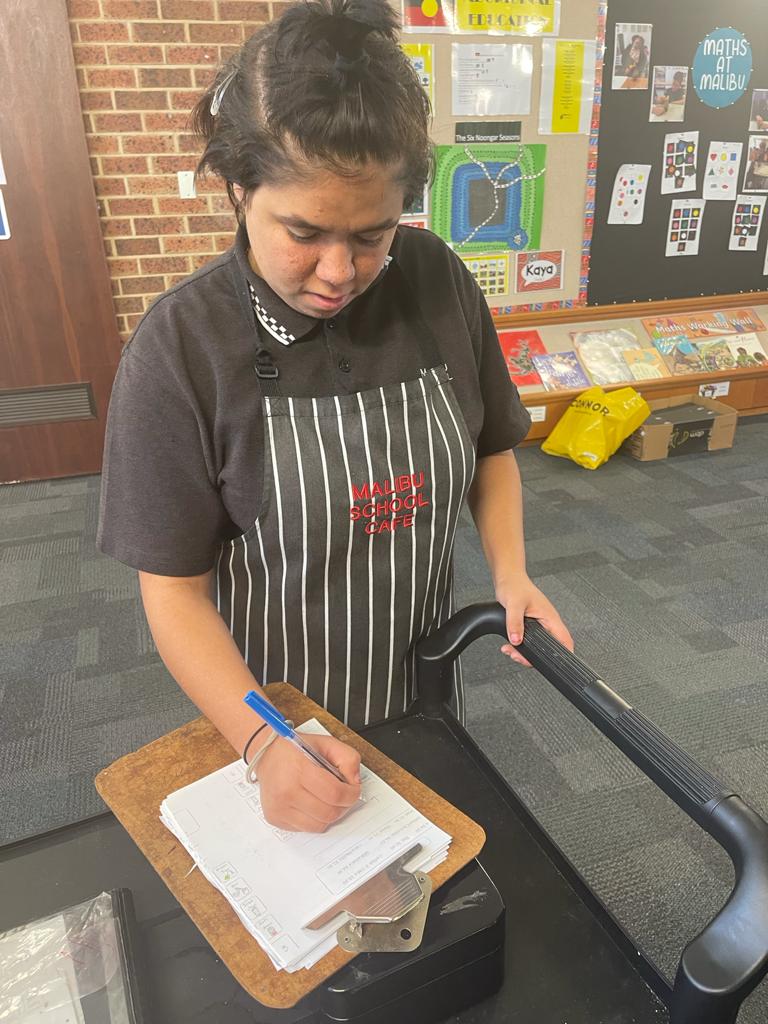 Prev
Showing images
1 - 8
of 9
Next
TA 13 - Work Place learning & Work Ready Skills
In Term 3, TA13 have been very busy with workplace learning and work ready skills. Our students have been working hard at their jobs, learning new skills within different industries. Some of these skills are, learning to work collaboratively with staff at Woolworths, how to restock the shelves and fresh produce. Out in the garden students are learning, how to prepare the garden beds to plant seedlings, using a variety of gardening tools safely and what it takes to maintain the upkeep of our school garden. Some of our work ready skills students have had the opportunity to work collaboratively with Safety Bay students, at their campus to create a nice seating area. We also have students attending Inspire Radio, to learn what it takes to be a radio host and the skills they need to interview a guest. Through work place learning and work ready skills our students are provided with an opportunity to explore possible career options and develop independence and self-confidence.
Thi, Sam, Anna, Sally,
TA 9 - Budding Entrepreneurs
This term TA9 have been busy little entrepreneurs. We have opened our own publishing house, Malibu Press, and are in the final editing stages of our debut children's book titled 'Melvin goes to Malibu'. Keep an eye out for this, it's bound to be a best seller in no time.
Throughout the process all students have participated in co-constructing the text for the story, using a range of alternative pencil methods and AAC applications.
They have all expanded on their graphic design skills through the creation of the drawings and photoshop applications to create the books illustrations.
Here are a few little teasers for you, we can't wait until the book is live and available for you all to read.
Kylie, Elle, Annette, Sue, Shelli, Lyn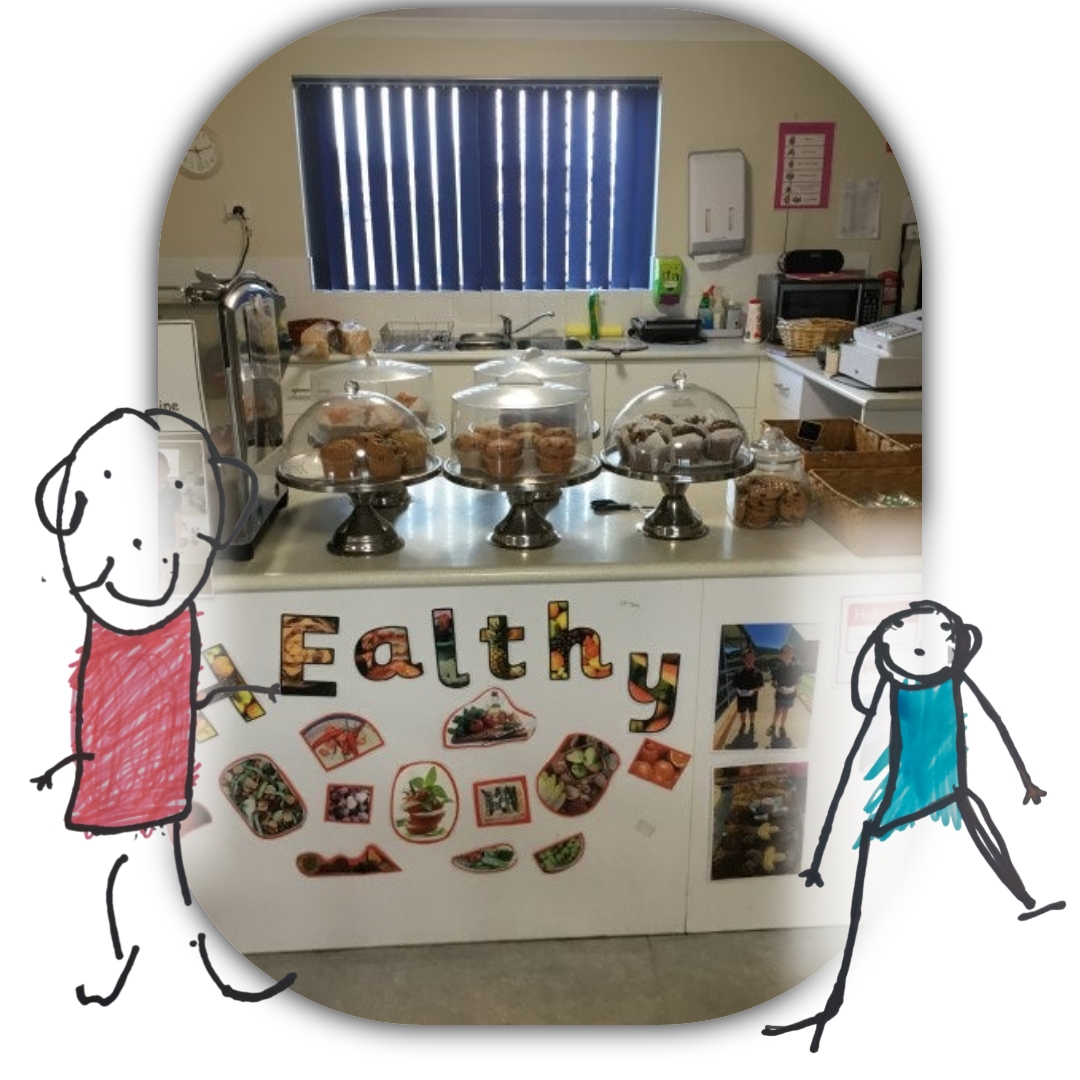 New Adventures in TA 4
This Term has been full of new and interesting things for TA4. The term began with a new teacher and then with the Sensorium theatre company we went on an adventure to a new faraway world when our spaceship crash landed on a wonderous planet. Some of the students even tried some new and intriguing space food. Then in week 5 we welcomed a new student to our class.
We have been immersed in our literacy and numeracy activities this term through an underwater theme. We have even been learning the Auslan signs for some ocean animals including the class favourites of turtle, whale and jellyfish.
We are looking forward to some more ocean adventures.
Kylie, Kathlaine, Sylvia and Michelle.
TA 2 - All About Books!!
This term TA2 are researching about community helpers. We are reading books by Bridget Heos, 'Lets meet a Doctor', 'Lets meet a Dentist' and more. This term has been very exciting with Book Week and dressing up as characters from "Old worlds', New Worlds' and Other Worlds'.
During an incursion at school with Sensorium Theatre Company we read a fantastic book called "Big Rain Coming" and a classroom was converted into a scene of clouds, the outback with our students sitting around the room listening to songs and stories. It was a great experience.
Robyn, Denise, Moetu, Linda, Tylah
Introducing our team - Sam Taylor
Sam is a long-standing member of the Malibu family, having worked here for 16 years. Sam currently supports learning in TA 5/6 with the Kindy / Pre-primary students. Apart from his dedication to the students here at Malibu, he is a Drama enthusiast and on regular occasions can be seen frequenting local stages, so please look out for him!
Malibu School would like to acknowlege Sam's hard work and extend a huge thank you to him for being our very own Malibu Dj for our first ever PESA Network Book Week Disco. Sam was in his element in this role and did an awesome job!
In his own words, Book Week "has been the best week ever"!!
Building Works Progress
As you can see from the photos internal work is now underway! Concrete has been poured and the internal cupboards and whiteboards installed. The anticipated date for handover is on track for the beginning of November.
Principal's Pen
Dear families
Over the last 6 months, Malibu School has embarked on a journey of self-assessment for improvement. There are many things that we pride ourselves on doing very well and one of these is our ability to question the 'even better if'.
Recently, our self-assessment processes and plans were reviewed as part of the Department's Public School Review process. I am very proud to report that the review team met with numerous Malibu staff and members of the School Board and have validated our whole-school self-assessment and improvement plans.
The reviewers acknowledged our shared understanding of what a Future Without Limits means to us, the incredible work we have undertaken in an honest and comprehensive self-assessment, involving all, and noted our plans for the future. They validated our recognition that we are on a positive trajectory to enhance student progress and achievement. This is a tribute to how thoroughly we have been in examining what is working well and even better if.
One of the changes we are making is to ensure that IEP goals are specific and achievable. Your child's goals will now be reported as 'achieved' or 'not achieved' at the end of the year.
We've worked hard this year and have the foundations to build on our successes. I'm really proud of what we have achieved and feel very grateful to share the journey ahead with our School Board. Thank you to Yvonne, Jason, Tarryn and Jennifer who were able to be the voice of our parents and Board on the day.
Our commitment to what matters most was validated over and over with the reviewers making particular note of our cohesive and dedicated staff, our value placed on family and the noticeable strong sense of community. I congratulate the staff for this wonderful recognition.
The report will be available soon and I look forward to sharing it with you.
Kind regards
Merrilee Wright
Principal
Important Dates 2021
Term 3
Wednesday 8th September - Malibu Faction Carnival

Thursday 9th September - RUOK day

Thursday 23rd September - Peron Education Support Alliance (PESA) Cricket Carnival,

Education Support South Network (ESSN) Senior Ball

Friday 24th September - Last day of term. Whole school assembly, parent / carer morning tea, classroom catch-up and PBS Disco
Term 4
Monday 11th October - School Development Day (no students)

Tuesday 12th October - Students return

Wednesday 20th to 22nd October - Senior Camp

Friday 29th October - Disability Expo at Mandurah Forum (Seniors)
Malibu Nurses Update
Colds
Upper respiratory tract infections or colds are everywhere, especially in winter, so it is almost impossible to stop children from catching them. Here are some points which may help:
Teach your child to cover his/her nose and mouth when coughing or sneezing, and to wash hands straight afterwards. (Sneeze into elbow if unable to wash hands without help).
Hands should be washed after blowing noses and before eating.
Use tissues once and then throw them in the bin. (Avoid using handkerchiefs.)
Keep your child home from school if he/she has a cold/cough/fever/pain.
Make sure that your children eat a balanced diet of plenty of healthy foods.
Keep children away from smoke – it irritates their eyes and nasal passages, making it more likely that they will catch a cold.
What to do if your child gets a cold
No treatment will cure a cold or make it go away more quickly, but you can help your child feel more comfortable:
Rest: This need not be in bed.
Provide extra drinks: If your child doesn't want to drink much, try giving lots of small sips of water, milk or juice, or ice blocks to suck for older children.
Germs are spread easily to classroom staff and other students. Keep your child home if your child cannot;
Cover his/her nose and mouth when coughing and sneezing
Wipe his/ her nose independently
Wash hands without help
Gastroenteritis
Gastroenteritis, or 'gastro' is a common condition in children of all ages. It occurs when the bowel is infected by a virus or bacteria. Symptoms include diarrhoea, vomiting, stomach cramps and sometimes, fever. Gastroenteritis, or 'gastro' is a common condition in children of all ages. It occurs when the bowel is infected by a virus or bacteria. Symptoms include diarrhoea, vomiting, stomach cramps and sometimes, fever.

Most cases in children are not serious, but it is very important to make sure that a child with gastro receives enough fluid.

If your child has gastro, keep them away from school for 48 hours after vomiting and diarrhoea have stopped. If symptoms persist see your family doctor.

The easiest way to prevent gastro is to make sure everyone in the family washes their hands regularly, especially before eating and after going to the toilet.

For more information go to http://www.public.health.wa.gov.au/2/597/2/gastroenteritis.pm
Malibu Nurses
Robyn, Dee, Gemma, Karen, Kelly
Third Party Online Services Consent
Our school provides access to Department of Education online services to enhance your child's learning. This may include access to a range of online accounts for learning.

While using technology at school, students are supported to develop cyber safe practices. You can read more about these in the attachment below.

So that we can keep your child connected, please complete and return this form in full to your child's teacher and contact us if you have any questions.
Forms are available at Reception, on our website and below.

Community Events and Information
Enrolments for 2022 are now open.
Please visit our website for more information or contact our reception on 9527 9009.