Fond Farewells
Full of tears, Nurse Robyn farewelled our students and staff today. Robyn's dedication to the students and thier health, was noted by all, and her energy in sharing her knowledge with colleagues and families was highly valued. We made sure to celebrate her and wish her very happy travels, filled with much joy as she finds some new roads to explore. Thank you, Robyn for your time at Malibu.
16 Days in WA Campaign
The Be You team would like to make you aware of the 16 Days in WA Campaign that is running from Thursday 25th November to Friday 10th December.
16 Days in WA draws inspiration from the global movement for 16 days of Activism Against Gender-based Violence to drive a change in culture, behaviour and attitudes that lead to violence against women and their children.
The theme for 2021 is: "Don't be silent when you see violence".
You are invited to create change during the campaign – to educate, motivate, advocate and stand up to stop violence. Violence against anyone is unacceptable. We all have a responsibility to help stop the violence.
You are encouraged to wear something orange throughout the duration of the 16 Days in WA campaign to spark conversations about what you can do to help prevent violence against women. Orange ribbons will be available at Malibu Reception from Monday for you to collect and wear.
Remember that respects starts with you – model respectful behaviour and be sure to call out any disrespectful behaviour. We all have a part to play.
Visit https://www.wa.gov.au/organisation/department-of-communities/16-days-wa to find out more.
24-hour helplines
If it's not an emergency and you need support, you can call these numbers 24 hours a day, seven days a week.
If you are assisting someone who does not speak English, first call the Translating and Interpreting Service (TIS) on 13 14 50. They can connect you with the service of your choice and interpret for you.
Vaccination requirements for students undertaking work placement
As of next year, many industries will be requiring students who are engaged in a variety of work placements to be vaccinated. For students in years 10 to 13 next year, we encourage you to consult your GP to discuss your situation as appropriate and to please notify us if your child will not be getting vaccinated so we can ensure we are placing students in the appropriate work related placements.
Parents/carers can visit healthywa.wa.gov.au to book a COVID-19 vaccine appointment for their child if they:
haven't yet received a COVID-19 vaccination; or
were unable to receive their second dose COVID-19 vaccination.
Please note that a second dose Pfizer vaccine should be delivered 3 to 6 weeks after the first dose. For futher information on COVID-19 vaccination, visit Roll Up For WA.
KIC iDiversity Project
The KIC iDIVERSITY Project is run by Kwinana Industry Council. The program caters for students with special needs within the Kwinana Rockingham area. A number of our students have taken part in activities including teambuilding, resume writing, social media, personal and presentation skills and exploring a range of careers available in the Kwinana Industrial Area. This has given our students an insight of Industries, meeting employers and employees in a range of roles, with the opportunity to reflect on their possible future involvement in the local workforce. Students will have a day of work experience with a local host employer or voluntary work with Native Plants WA Rockingham.
Janine Robertson
Pathways and Transitions Coordinator
Malibu Moments
On International Men's Day, Friday 19th November, we celebrated the positive values and influences that our Malibu Men bring to our students, colleagues, families, the community and to our world. When we asked Sam, Adam, Robin, Peter, Marc, Tony, Rob, James and Ryan (L-R) about their thoughts about positive male role models, they shared the following;
'Being an enthusiastic and positive role model for young males is incredibly important to me. I hope that from growing up with respectful beliefs, from my own father, that I can instil my own morals and beliefs to help shape young males to act respectfully and responsibly. Being a good male is instilling trust and safety in the community and being a pillar of support'.
'Set a positive example for the next generation. Show promise, not fear, for the future. Give quality time to people who need help and guidance. Show respect for all people. Take pride in what you do. Make a difference, no matter how small the intention'.
'Being a good male role model, in my eyes, is being able to see everyone as equal and being able to create an environment that is safe for everyone'.
'A good man is respectful, honest and fair. Always treat people the way you want to be treated. Always try to be a gentleman'.
'Male role models can be fathers, uncles, EAs, teachers. To acknowledge that being a male, and a role model, is a positive thing. A good man has the courage to communicate feelings in an appropriate way. Acknowledge anger and learn from it to transform it into a positive outcome'.
'My dad gave me advice early in my life. He said "Stand tall. Always respect others. Be Honest. Be the best you can be and live life to your best". I hope I have made my Old Man happy. Thanks Dad'.
'Be kind. Take people for who they are. Do what you can do - worry about what you can do. Try your best and do what is right'.
'Be kind to one another. It's okay to cry and be there for another. Let's build each other up and show our children, our next generation of leaders, the importance of being a man, by setting an example and leading the way'.
'Be a positive role model by balancing strengths, compassion, accountability and kindness. We should champion the role men play and the way they can impact the futures of children. Bring back the concept of being a gentleman'.
We are so proud of our positive role models who are so invested in leading a better world by promoting respectful relationships and equality for all.
Navy Day @ Malibu School
We welcome our current and past Malibu family and friends to join us in celebrating International Day of People with Disability, proudly supported by our Royal Australian Navy partners from the HMAS Stirling, Garden Island.
Our Annual Navy Day has been a highlight of our calendar (with considerable water fun) and provides the perfect opportunity to celebrate our incredible students and community.
Through the efforts of our Malibu Little Stars Playgroup Plus, we are grateful to have received generous support from Developmental Disability WA, through a grant funded by the WA Department of Communities, which will be used to help us celebrate and raise awareness about our students' abilities and limitless possibilities.
To assist with planning, please RSVP your attendance here.
We look forward to sharing this exciting day with you.
Meet Out Board Member - Matt Griffin
My name is Matt, one of your school board members. Just a quick note to introduce myself and tell you a little bit more about me and my background.
Starting off, my wife and I have 5 boys ranging in age from 26 to 6, our youngest being Charlie, who attends Malibu. Charlie's brothers are Kieran, Declan, Daniel and Archie, we live in Meadow Springs. My wife is a hairdresser and I am a shift coordinator for Rio Tinto, in drill and blast, so I get to work with explosives (it is not as glamorous as you may think, but pretty cool all the same!!). We have lived in Australia for nearly 11 years, after emigrating from the UK.
My wife and I are so glad we are involved with this fantastic school. We began our Malibu jouney at Little Stars playgroup on a Friday, Charlie is now in Year 1 and loves coming to school everyday. Its great to see such happy smiling faces each day and thats not just from the students. Please come up and say G'day if i am in the pick up area, I love a good chat!!
Thanks for reading.
Matt
School Board Update - Award
The School Board is looking to acknowledge staff for their hard work and dedication to Malibu School. Congratulations to Tiffany Brunswick, our TA14 teacher, who is the next recipient of the School Board Award. Tiffany has stepped into the role of Senior Cluster leader this year and has consistently demonstrated a strong dedication to the Senior program, leading a collaborative environment where students are supported to achieve their educational goals. This is often reflected in her devotion to supporting important school initiatives, such as the Senior camp, ASDAN and the development of Malibu School's student leaders.
The Arts - Music Rocks @ Malibu
If I were not a physicist, I would probably be a musician. I often think in music. I live my daydreams in music. I see my life in terms of music.
― Albert Einstein
There is a reason why many speech therapists advise the use of music in speech development. Music is a language we can all understand. Sometimes the sound of musical instruments is all we need to relax. Other times a certain song can bring happy memories flooding back! Special needs students benefit greatly from this type of stimulation.
The Malibu Music room has been abuzz with the sounds of colourful, pitched boomwhackers this term, as students practice new tunes and incorporate their own rhythms into their performances. Students have flourished in small ensembles to play untuned percussion instruments to take turns to tap, shake, ring and click their instruments. The joy of persevering and succeeding to play and listen to others' has been truly amazing to see! We are continuing to explore the songs of Gina Williams and Guy Ghouse through traditional Noongar songs, 'Djinda Djinda' and 'Bindi Bindi' whilst building an understanding of the beautiful messages behind the lyrics.
Debbie
Science - Exploring change!
Changes are happening all around us. Chocolate melts in the sun, water evaporates from puddles and cement hardens in the open air. Predicting the changes that can happen to everyday materials is important in understanding the best way to manage things such as food handling and cooking, construction and packaging.
By observing change, students glimpse the diversity of materials in their world. Students have been learning how heating and cooling a food can change its properties and whether the change can be reversed. How many ways can you cook an egg? Which type of chocolate melts the fastest?
Rob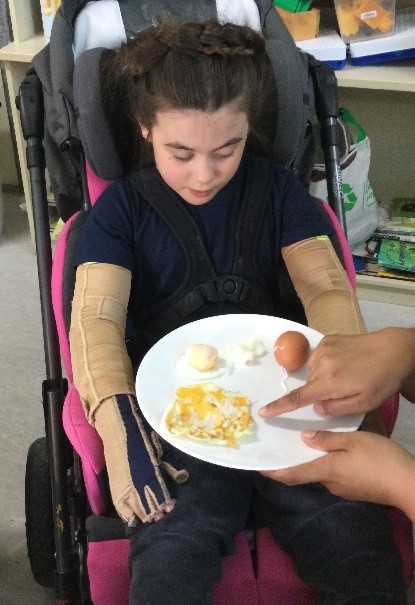 TA13 - Were Going to the Zoo, Zoo, Zoo!
This week TA13 have been lucky to go on an adventure to visit the Perth Zoo. Everyone was very excited to go exploring. With such excitement students saw plenty of trains passing by and looking at different vehicles on the road. As the bus takes a turn the students can see the Perth Zoo Sign and are cheering on the bus. With many animals to see the class had to navigate using the maps around the zoo. The students worked well as a team and demonstrated they are fantastic listeners while following instructions. The students saw animals from the African Savannah and saw Rhinoceros, Lions and Hyaena. Students then walked to the nocturnal house and saw ring tailored Lemur, Giraffe having their lunch, Elephants dancing and the biggest lizard, the Komodo dragon. With all that walking and sightseeing it was time to end our excursion with a lovely picnic. The journey home consisted of singing, a game of I-Spy and sleeping. It was a fantastic day!
Thi, Sam, Anna, Sally, Jane
TA10 - Market Day - Behind the Scenes
On Monday's, TA10 students have been working incredibly hard on their Business Enterprise project ready for the ESSN Market Day. Coming up with a business name, designing and creating recycled planters, paper mache seed balls, shopping bags and Christmas cards, with a focus on learning about the importance of sustainability and recycling along the way. The student's asked others around the school to vote for a reasonable cost to help decide on pricing and created logo's and posters to advertise the business and the products for sale. We had a fabulous turn out on Market Day, with our recycled shopping bags being our most popular purchase! Amazing effort to all involved.
Simone, Torri, Jane, Sandy, Monica, Tylah
TA9 - Meet Bubbles & Bruce!
This term in TA9 we have some new additions in our class.
Bubbles and Bruce, our class pet goldfish.
During the discussions leading up to taking on this huge responsibility of having a pet the students took part in collecting data on which type of goldfish they wanted as well as deciding on their names.
The students take turns to look after the fish, feeding them and assisting to clean the tank out.
We have had many discussions around pets we can keep and pets that must be kept in the wild or at the zoo.
Kylie, Elle, Annette, Sue, Shelli
TA4 - Creativity & Enterprise
Term 4 has brought new adventures to TA4. We have been joined by another new friend to our class, Layla, who has been a welcomed new playmate for the other students. We have enjoyed working on our enterprise products stamping apples, potatoes, cardboard tubes, cookie cutters and recycled water bottles to make interesting designs on the paper. We then practiced our communication and money skills selling our hand stamped wrapping paper and cards at the market day, whilst enjoying the disco and Glee club performance as well.
We are looking forward to the warm sunny weather and upcoming end of year celebrations.
Kylie, Kathlaine, Sylvia, Sandi, Michelle and Zoe.
Prev
Showing images
1 - 8
of 9
Next
TA2 - Busy Times!
TA2 have been very busy this term, focusing on people who help us in the community such as Police, Dentists, Doctors and Firefighters. We had lots of fun during Halloween week making Wizard Hats and doing spooky Mathematics.
Students have also been working very hard learning the purpose and stratagies to prepare and create products to sell at Market Day.
We are coming up to the fun time during term four, getting ready for all our Christmas activities.
Katrina, Denise, Moetu, Lucarna, Jacqui
Contributions and Payments
In early December, parents receive notice of Voluntary Contributions and Charges for their child for the New Year. Families are encouraged to make payment for these amounts as soon as possible, with full payment finalised by the end of Term 1.
Families will receive a Statement of Outstanding amounts owing in Terms 2 and 3 with a final reminder in Term 4.
Payment Plans are an option available to families and can be commenced immediately. Families experiencing financial difficulties/hardship are encouraged to discuss this option with the Front Office as soon as possible.
Payment Methods:
Direct deposit: Account Name – Malibu School




BSB 016 441 Account No: 340 961 254 Reference: Please include student's full name

Cash and cheque in person at the Front Office
For enquiries, please contact the Front office between 8:00am to 3.30pm.
For details of this years contributions and charges, please refer to the attached document.
Malibu Nurses Update
Please find below a useful link to CAMHS Crisis Connect
CAMHS Crisis Connect provides phone and online videocall support for children and young people who are experiencing a mental health crisis, as well as support and advice to families, carers and professionals in the community.
It aims to provide expert help to children and young people quickly, when they need it most.
https://www.cahs.health.wa.gov.au/Our-services/Mental-Health/CAMHS-Crisis-Connect
Parents, carers and students are also welcome to chat with a school nurse who can point them in the right direction of extra support if needed.
Third Party Online Services Consent
Our school provides access to Department of Education online services to enhance your child's learning. This may include access to a range of online accounts for learning.

While using technology at school, we support your child to develop cyber safe practices. You can read more about these in the attachment below.

So that we can keep your child connected, please complete our online form or print and return the form belowto your child's teacher.
Forms are available below, at Reception, on our website and below.

Enrolments for 2022 are closing soon. If you know anyone interested in becoming a Malibu School family member, please encourage them to visit our website for enroment information or contact us for a visit soon.
Community Events and Information
KidSport Vouchers
Is your child eligible for up to $150 towards joining a sporting club?
If your child is between 5 and 18 years and is named on a valid Health Care Card or Pensioner Concession Card they may be eligible to receive up to $150 per calendar year towards club fees for registered KidSport Clubs.
KidSport wants to help children experience the benefits of participating in club sport and connecting with their community.
Apply online Visit www.dlgsc.wa.gov.au/kidsport or call us on 08 9492 9911 for more information.
International Day for People with Disability
'Connecting Community for Kids' are holding an event on Wednesday 1st December to celebrate International Day for People with Disabilities. This event seeks to celebrate the person for their skills. A variety of activities and crafts will be provided to occupy the children.
Children, parents, carers are all encouraged to join us for this event. Let's celebrate IDPwD by finding out common ground. All welcome!
Please see the attached flyer
Variety WA EduKids Grants - NOW OPEN
The Variety EduKids grant is aimed at helping WA children receive an essential education by providing funding for vital 'Back to School' equipment such as stationery, uniforms, laptops, tablets and more. We provide assistance that is not accessible through government funding and alternative services.
Applications closing 11th January 2022.

To be considered eligible the child/children must meet certain criteria - for more information, please contact the kids Support team at T 08 9355 3655 E kidssupport@varietywa.org.au
World Festival of Magic - Online Show
Free streaming of the 2021 World Festival of Magic Show is now available.
The Rotary Club of West Perth is thrilled to offer Malibu School unlimited and on-demand viewing. A great in-class end-of-year activity for teachers and students, and families to watch over the holidays.
Please see attached PDF flyer for access details.
Telethon Holiday Makers Program for January 2022!
Running in Fremantle, Rockingham and Marangaroo, the program is for 10 – 18 year-olds on the autism spectrum and provides a fun and relaxed environment to hang out and engage in a range of different activities each school holidays. Some of the activities that we have planned for January include a trip to Cockburn Arc, Perth Zoo, Fremantle Pool, Perth Mint and the Art Gallery of WA plus rollerblading, rocket making, trampolining, rock climbing and much more. To view the whole program, head here.
The places are allocated on a first come first served basis - please see attached flyer for further information.
Details:
Fremantle
Days: Monday – Friday, 10 January – 28 January 2022
Venue: Spectrum Space, Fremantle Hospital
Rockingham
Days: Wednesday 12 & 19 January 2022
Venue: Rockingham Senior High School
Marangaroo
Days: Wednesday 12 & 19 January 2022
Venue: Hepburn Centre, Marangaroo
Enrolment: All participants must be enrolled before attending the Program. To enrol, please fill in the expression of interest form here or call us on 9431 2111.
More information about our groups
As well as running the Telethon Holiday Makers Program, we also run social groups throughout the school year. Using a strengths-based approach validated by Curtin University, our social groups connect young people with autism with others and provides opportunities for social interaction, engagement and fun. Designed for specific age ranges, the social groups offer a regular program of events and activities for members. Participants are invited to make decisions on what they would like to do throughout the term, both individually and as a group. As an NDIS provider, participants can use their plan to access our services.
For more information about our services, please contact us via email, phone on 9431 2111 or visit our website here.
Rotary Recreation Camp
Do you know anyone between 18 and 35 years young who might like to attend a special needs camp?
When-: Sunday 8th to Saturday 15th January 2022.
Where-: Pt Walter Recreation Camp in Bicton. Point Walter is a dormitory style camp, with rooms for 4 people, each with their own bathroom and caters for people with disability.
Rotary Camp Inspiration Activities include: Archery, Flying Fox, Ten Pin Bowling, Trip to Adventure World and Zoo, Watersports (biscuiting and boat rides), Bingo, Karaoke ...plus lots of swimming, pool games, and laughter!!
Rotary CLUBs will sponsor and pay for ALL participants if selected.
For further information please contact-: Veronica Lawrence on 0409 035 343 or email ffoliopr@bigpond.net.au or Peter Salleo on 9361 7500 or ask your local Rotary Club who will help you.
Travel Without Limits
Travel Without Limits is Australia's first (and only!) disability-specific travel magazine. Over the past three years, we've been sharing information, advice, and recommendations from people with real-life experience of travelling with a disability.
With Australia opening up this summer, a lot of families are sure to be dreaming about hitting the road and seeing the sights. We're here to help them with everything from destination guides to accommodation reviews to transit advice, to make their trip as smooth as possible.
If you are interested in subscribing to Travel Without Limits, please click here.
Building Works Progress
Our new build is nearing completion and work on the Primary playground commences next week. Our plan is to hold a grand opening in Term 1 next year, which will coincide with our 40th birthday! We'll also start planning for our space to be – in the middle of the school following removal of the blue demountables. Much to do, although our evolving spaces will be magnificent for our students.